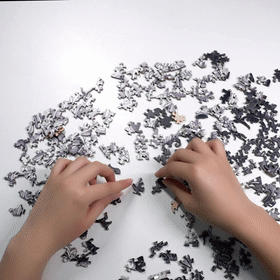 Great as a Gift for Yin Yang
A gift that will surprise and stay in memory. Each puzzle is packed in a premium wooden gift box!
Each puzzle piece has its own unique shape. This is a high complexity of assembly (200 unique shape puzzles similar to 1000 usual cardboard puzzles in complexity)
Interesting for adults and children
All parts are cut from basswood, so you can feel the woody aroma.
This is not just a puzzle, it is a wooden puzzle. It will be a great gift for both a child and an adult.

What is the distinctive feature of these puzzles?
All parts are cut from Basswood, 3 mm thick.
As soon as the box opens, you will feel the woody aroma.
To create all these graceful figures, we used a high-precision laser.
Time with the Yin Yang will fly by.
We take pride in providing quality products and carefully inspect products before shipment. In the rare case that the item is faulty, damaged during transit, please contact us for more help.
This exciting game is suitable for school children and adults.
Size:
L – A3
M – A4
S – A5
We Offer Worldwide Shipping
We will ship it 3-7 working days for that the products are made of wood, in addition to the need for printing and dyeing group. The process is more complex.
100% Best Service Guarantee
If the product or wood piece is broken or missed. Please contact with us by service@beefaa.com. We will remake and reship a new one to you. Don't worry.