Great as a Gift for XMAS?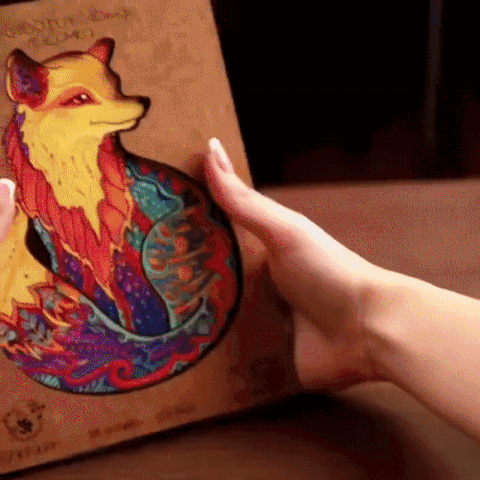 A gift that will surprise and stay in memory. Each puzzle is packed in a premium wooden gift box!
Each puzzle piece has its own unique shape.This is a high complexity of assembly
Interesting for adults and children
Imagine that you are holding a small sculptured figure of an owl in your hands. It is warm with textured surface and it has a slight smell of wood. Your fingertips feel the carved feathers of the spread wings. The figure is brightly painted. It is magic. And then you take the figure in the shape of an oak leaf, your fingers feel all its carved grooves.
And now imagine that there are more than a hundred of such figures. Wonderful forest inhabitants. Here is an elk with broad horns. Here is a wolf, an eared hare, a quiet bear. One side of them is brightly painted and the other side is a plain wooden surface. Even the graceful doe on thin hooves stands steadily on the table.
Each part will fit another one which is completely unlike it. It is quite challenging to find the same connection for different couplings. On the one hand they look alike but on the other hand they do not fit one another.
This is the uniqueness of our puzzles. This set does not imply just a usual puzzle assembling; it requires a very thoughtful process. The purpose of it is to find the suitable couplings and create the scene of the forest life on your table. It is a whole universe and an exciting adventure into the world of SOUHONEY.
Size
King size:A3
M:A4(Highly recommended)
S: A5
Material:Basswood/3mm
We Offer Worldwide Shipping
We will ship it 3-7 working days for that the products are made of wood, in addition to the need for printing and dyeing group. The process is more complex.
100% Best Service Guarantee
If the product or wood piece is broken or missed. Please contact with us by service@beefaa.com. We will remake and reship a new one to you. Don't worry.