Great as a Gift for XMAS?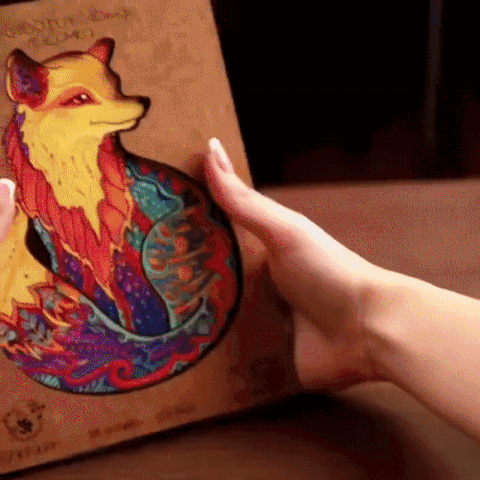 A gift that will surprise and stay in memory. Each puzzle is packed in a premium wooden gift box!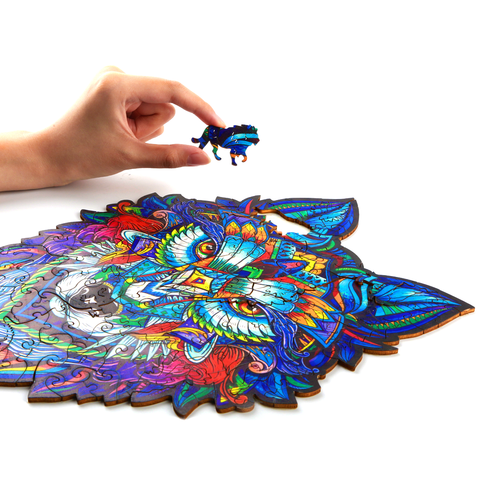 This is not just a puzzle, it is a wooden puzzle. It will be a great gift for both a child and an adult.
The moon's silver light flickers, streaming through the torn clouds. The full moon looks down completely with its impassive face.
The ringing silence around. He sits on top of the hill. The majestic wolf. His coat sparkles in a ghostly light. A yellow look upwards. Sensitive ears catch any sound, he knows the pack is here. The leader throws his head up and tightens his song. The voices of the pack echo to him. A mesmerizing, chilling howl spreads around. He envelops everything around him. The night is a time of song and hunting.
The wolf's greatness is made up of his cunning, ferocity, and cunning. Even the bear, when it sees the wolf's footprints, turns the pack off the road. There will be no salvation for a deer or a boar, the leader will lead the family to prey. Until dawn, the flock will be fed, so it will live.
The day is a time of rest and games, you can have fun with your brothers, admire the flight of a moth. The majestic leader takes a nap in the shade. Only the old raven knows what's behind this nap.
The new wooden puzzle will introduce you to a pack of wolves. You will immerse yourself in the night world of the leader and his flock. You'll feel the forest atmosphere thanks to the scent of wood.
Each puzzle piece has its own unique shape.This is a high complexity of assembly.
Size
King size: A3

M: A4 (Highly recommended)

S: A5 
Material:Basswood/3mm
We Offer Worldwide Shipping
We will ship it 3-7 working days for that the products are made of wood, in addition to the need for printing and dyeing group. The process is more complex.
100% Best Service Guarantee
If the product or wood piece is broken or missed. Please contact with us by service@beefaa.com. We will remake and reship a new one to you. Don't worry.