Immerse yourself in the peace & calm of the ocean! 
The calm of the big blue will help you relieves stress and axiety. These two synthetic jellyfish that provide mesmerizing ambiance (just like their real counterparts).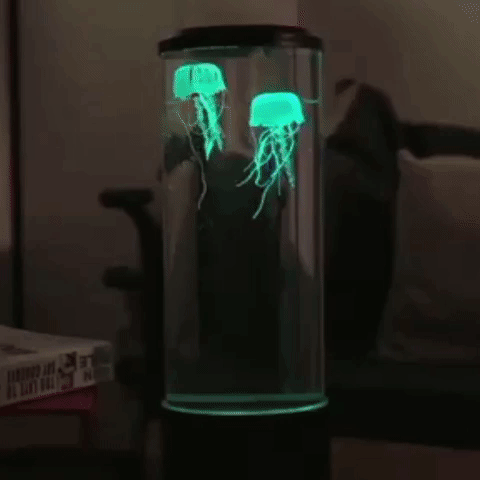 A MESMERIZING EXPERIENCE !
Features:
1.Mesmerizing lifelike Jellyfish with realistic movements, be fascinated as these two neon dotted jellyfish swim majestically around their tank
2.The colors can be randomly set that with each glance the colors have changed providing a new delight to the eyes and senses.
3.Great for Chidrens night light.
4.Great gift for anyone who loves sea life or simply wants to make a unique design statement.
5.Led Jellyfish lamp, Watch jellyfish models swim quietly, creating a beautiful ambience.
6.Perfect for office or home as lighting and fish create a soothing peaceful environment.
OPERATION MANUAL:
1.Remove the screwand remove battery cover.
2.Insert 3AA batteries and lock the battery cover(Remove battery ifusing USB cable)Or connect the power with USB cable to a USB interface(4.5V 450Am)
(Do this step after Step 4 if you are using a USB cable)
3.Remove the cap from the top of tank.
4.Fill tank with water.
5.Turn on switch at the base of the lamp
6.Add 3 drops of dishwashing soap into water and lets it for 1 minute.
7.Dip the 2 jellyfish into water upside down until fully submerged.If there's some bubbles trapped, shake jellyfish upsidedown to dislodge.
8.Replace cap back on the tank&enjoy
Note:Do not keep the lampworking more than 8 hours each day to save the life of motor.
Specification:
Product Type: Lamp
Product Size:10.5*28CM
Material: ABS & Acrylic
Packing include:
1 x Mood Lamp
1 xUSB Power
2 x BigJellyfish